Take control of a robot and catch fishes by swinging across the underwater landscape using her super ultra stretchy hair.
This is a more polished version, complete with a new mode:
http://gamejolt.com/games/arcade/t-a-r-a/15170/
This is pretty much the 7-day version:
http://www.renegadeware.com/web_games/FishGame/Web-Build.html
Things that didn't make it:
Sound effects, I'll add this shortly, possibly before the closing submission.
Boss
Other realms, beyond Coral Grief.
Intro
Unlock new equipment.
All new development progress will happen at Gamejolt. Once all the other stuff I wanted to add are done, the game will be released on Newgrounds. For now, I need to see if it's worth developing this game further.
Screenshots: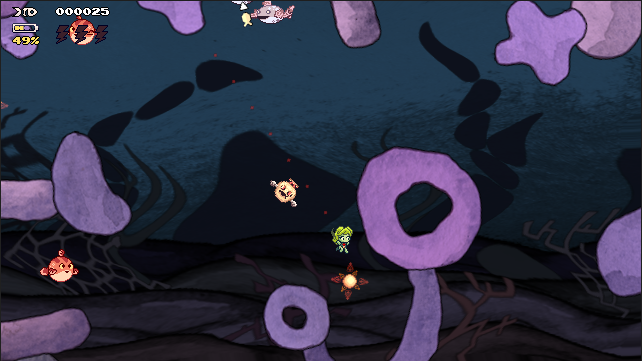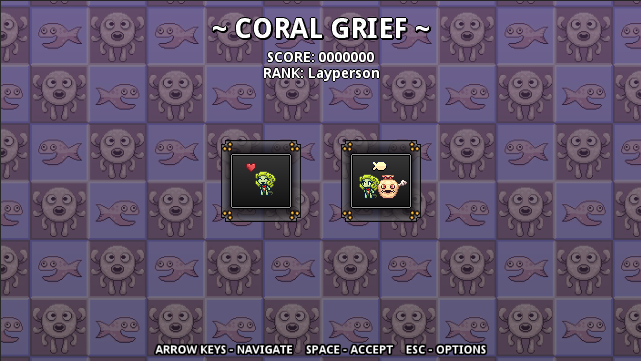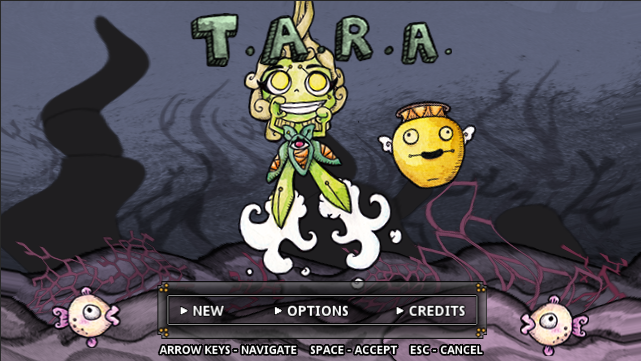 Concept Art! I got really interested and decided to make a water-colored concept art for this.
Tara's sprite sheet:
Here's a mock-up of the gameplay:
I suppose in a sense, it's a ninja-rope game
The idea is to chase after fishes and knock them out, then collect them before your battery runs out.
Boost allows you to change your trajectory in mid-air, use this to knock fishes out. They can be collected once they get knocked out. Certain fishes are stubborn and will require more beating.
Avoid knocking yourself out if you are moving too fast and you hit the landscape. Getting knocked out means you get stunned and you will be unable to perform any actions until you land. There are various hazards underwater as well. These will stun you, quite possibly eat you, and drain a small amount of your battery.
That's pretty much the core mechanics in a nutshell!
Once that's implemented, more to follow!
Upgrades, money; those stupid things, most likely.
Here's some more sketches:
~ Updates ~
Day 1
Initial stuff.
Character control including rope mechanic.
Some stuff I don't remember...
Day 2
Tweak gameplay.
Basic fish movement
Beat fish, capture fish
Spawning
Some other stuff...
Day 3
Boost
HUD
Game flow
Better fish spawning
Hostile 'fish'
Day 4
Tara art
Tweak gameplay
Animation system
Day 5
Various epic-fail in several art style
Decided to use pieces of scanned water-color images
Day 6
More tweaks, played the game more than developed.
Added new mode.
Gameflow
Day 7
[*] Second prototype release.[/list]
Days Beyond
[*] General polish
[*] More gameflow
[*] New mode
[*] Tons more assets
[*] Music[/list]
Planned Release
[*] Boss
[*] 2 more realms.
[*] Intro.
[/list]
Here's some notebook shots, if it's of any interest. Gonna see if I can post a demo later tonight!
Screenshot: